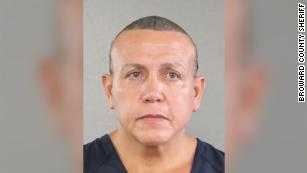 Cesar Sayoc ran a business called "Native American Cleaning". He is not an indigenous person. He is of Italian and Filipino descent.  A metal health professional has said that he has'an identity problem" . As we have seen before this is another non Indian person loosely affiliating himself with Indian images and bumper stickers.More and more we see proud colonists of this illegal land calling themselves "Native American. Lets look at the term Native American at its meaning and origins. Native means belonging to a particular place by birth. In this place Mr Sayoc is a native of the United States of America or America. The Americas were named the Americas after Amerigo Vesspucci and Italian explorer who first landed on the continenet of what was named by Europeans "America"
Of course there are Indian people who are crazy, also. Of course there are Republican American Indians. Let me make this clear. Regardless of any loose association Cesar Sayoc is a disturbed imdividual full of right wing hatred regardless of what race he is or isn't. In this case we have a disturbed Italian/Filipino who is disturbed and full of hate. His boss said he openly praised Hitler.
What is America? An illegally stolen land that was stolen from the indigenous people of the land Europens and speakers of English call America. It's native people are often proud of their colonial heritage.
The origin of the term "Native American was coined in the 20th century during the indigenous political up rising within what is called America of the 1960s and 70s by the US government. What a coincdence. So everyone born in America who claims America, is techincally a native American.
I wrote this because of the realization that white reactionaries and some of our allies even have now completely coopted the US government designation of "Native American".
When Donald Trump, Cesar Sayoc or any number of right wing white nationalists use the term they mean this "I was born in the United States of America. It now means nothing for Indians from the land now named after Amerigo Vespucci by Euro-Americans. I had an African AMerican woman from an allied organization even say to me "Tom, we are all Native Americans born here and from here".
I am here to tell you I am an Indian, I am not Native American. So you nationalist Native Americans can have it. We are not Native Americans! I am Annishinabe!
Native Americans are white, black, latino, and anyone who is a proud colonizer. Cesar Sayoc is a sorry excuse for a human being.